Adding iNAP to Your Device List
When your iNAP is paired with your smartphone, you'll be able to track your treatment time and sealing percentage by Day/Week/Month, and conveniently share this data with your doctor.
From the Home screen, tap Device
Tap the plus sign +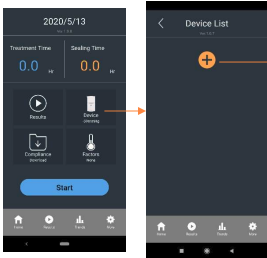 3. Select iNAP Sleep Therapy
4. Next, you have two options for adding your device:
Tap the QR Code and take a picture of the QR code on your machine or
Tap Search for Device and select the machine's Serial Number from the list of Bluetooth devices that your phone locates near you

5. If pairing is successful, click Continue to complete the process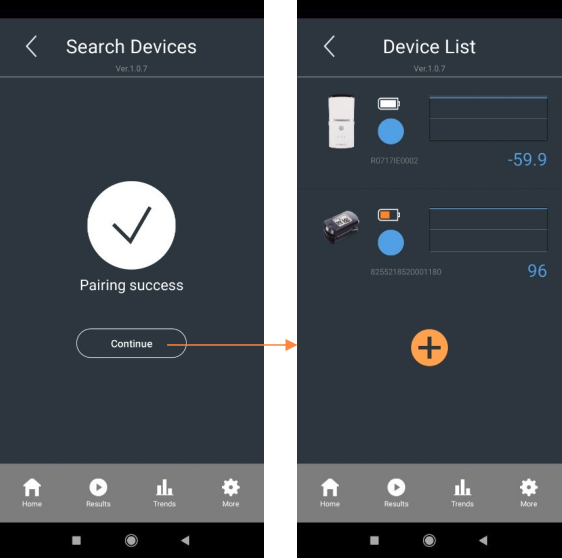 6. If the pairing fails, please make sure the device is within range and retry. If you are scanning by
QR code, be sure that you are scanning the lower QR code on your device and not the top. The
correct QR code is named "iNAP xxx xxx System" and should have the tag "SN", meaning Serial
Number.
Tip: To delete a device from the list, slide that device to the left and tap Delete.
Adding Other Devices
FitBit
From your Device list, tap the orange + button to add a new device
From the menu, select Fitbit
Tap the Fitbit icon and you will be routed to Fitbit's Login screen
Log in to your Fitbit account and confirm you would like to share data with the iNAP+ app
You should then see confirmation of a successful login. Tap Continue to pair the devices.
You should receive confirmation of a successful pairing as well. Tap Continue and you will now see your Fitbit listed in your Devices.