Downloading the iNAP Lab+ app from Google Play or the App Store lets you track your usage and take control of your treatment data.
What if I don't have a smartphone?
Your iNAP will still work without the mobile app, however, you won't have access to valuable features like daily usage and performance data feedback or remote control of the pressure setting by your doctor.
Downloading the App
From your mobile device, navigate to the App Store (iOS) or Google Play (Android)
Search for "inap lab"
Once you find the iNAP Lab+ app, tap GET and confirm your download
Review and accept the Privacy Policy to allow device permissions

The Location permission allows us to locate in-range Bluetooth devices to pair your machine with your phone
The Storage permission enables the recording of the data
The Camera permission allows QR code scanning for quick setup of your machine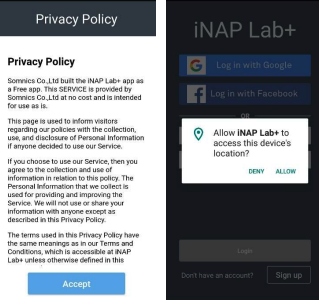 Register
If this is your first time using the iNAP Lab+ mobile app:
Tap Sign Up
Enter your email address and choose a password
Confirm your password and tap Sign Up
Tap Continue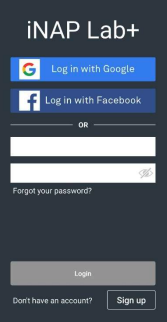 Signing In
Once you are a registered user, you can choose to log in via Google or Facebook authentication if you would like - or you can continue to log in with the email and password you created.