There are a few different reasons you may be having trouble with the vacuum level. Below you'll find tips for narrowing down the cause, and how to resolve it.
1. Regular Machine Maintenance
Check that all components are inserted correctly, are free of dust, and are not damaged (saliva container on the console, saliva container cap, tubing, and oral interface).
2. Dry Saliva
Dry saliva can cause a partial blockage resulting in a loss of pressure. Fill up the tube with water and blow hard into it to remove debris. Repeat several times.
For additional cleaning schedules and tips, check out our Maintenance Guides.
3. Leaky Connection
How To Test For A Leaky Connection
1. To start, turn off your iNAP and try sucking the air through the oral interface until you feel resistance, then hold your breath while breathing your nose.
The system should be able to keep the negative pressure you created. If you feel you can keep sucking air through the tube, it means that there is a leak somewhere.
2. Alternatively - With your iNAP turned on, open the iNAP + mobile app, and tap Device.
Block the cap's hole with your finger, then insert the tube into it and pinch the stem of the oral interface. Each time, look at the pressure number in blue underneath the graph. If the number is low (below 10), there might be a leak at a connection (either cap to saliva container, tubing to cap, or oral interface to tube).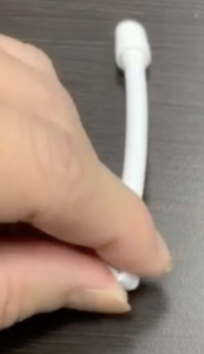 Missing O-Ring
| | | |
| --- | --- | --- |
| Make sure the o-ring inside the saliva container is present. | O-Ring | Missing O-Ring |
If the pressure is high after each of these steps, please reach out to us using the blue Support icon at the bottom of this page, or by emailing support@somnics.zendesk.com.